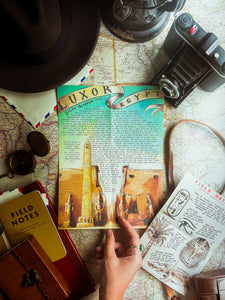 Luxor, Egypt
Regular price
$7.00
$0.00
Unit price
per
Get ready to venture to a true land of mystery... where ancient civilizations still flourish under the hot sun, and desert sands have buried the stories of time... This month, you're heading to Egypt!
In the latest Letter From Afar, follow along as Isabelle drifts her way down the Nile River on a felucca and stumbles upon the grand city of Luxor. She'll gaze upon the many hieroglyphs of Luxor Temple, wander the city markets, trot on camelback to the Valley of the Kings, and join a team in unearthing one of the most significant archaeological finds of the century.... can you guess what it may be?
Those that know me know Ancient Egypt has held my fascination since childhood. I was SO excited to write this letter, and I hope my love for the culture, exploration history, and region comes through in the colors of the artwork and the tone of my writing.
Your letter will arrive with the new Field Notes and Map addition which features a vintage map of Luxor and as many fun facts as I could muster. I'm so excited for you to read it!
---
Share this Product
---